One of the most effective digital marketing tools for business owners is a well-designed website. Among the various benefits of having a website for a small business, one of the most important benefits is the improvement of credibility and online visibility.
Four out of every five small businesses do not have a website, according to a 2021 poll of more than 1,200 business owners. Having social media profiles on Facebook, Twitter, Instagram, and LinkedIn may be considered sufficient by many business owners. These tiny businesses can't link their social media accounts to their website, which lowers their Google search rankings.
Why do small businesses not have a website?
A study commissioned by Verisign concluded nearly two-thirds of consumers believe a business with a website is more credible than a company without one. Despite this, some small business owners choose not to have a website for various reasons, including:

A limited budget (e.g., cannot afford website hosting or a web designer)
Lack of tech-savviness or understanding of marketing strategy
Social media marketing meets their primary business needs
However, simply having a website could put you a step ahead of your competition. A site is one more way to drive potential customers, revenue, and overall value to your business.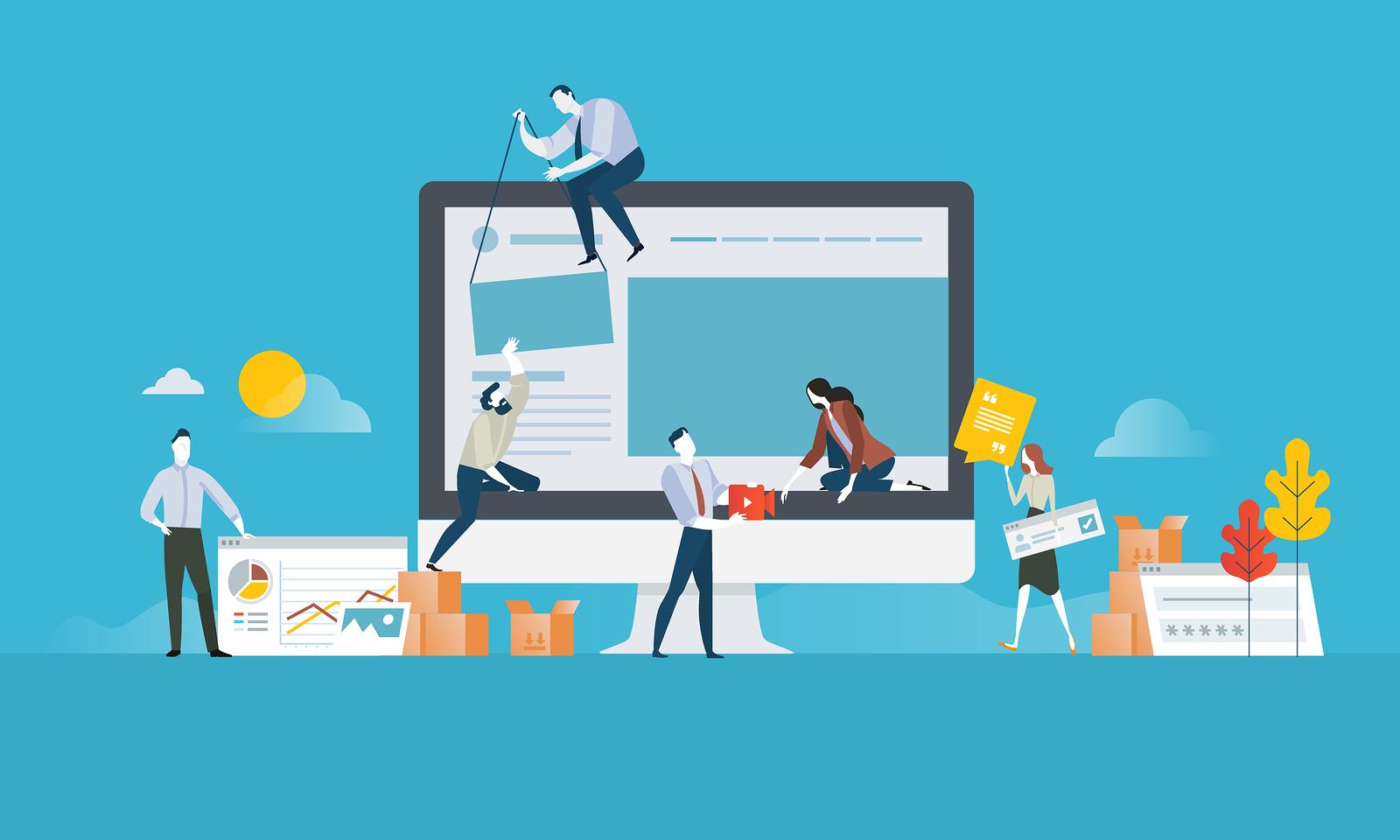 20 Benefits of Website for Small Business
Discover 20 benefits of having your own website for your startup or small business. Take advantage of these ideas to get the most out of your professional website.
1. Cultivate a professional web presence
Having a website, especially one with an appealing web design, provides the appearance that you are serious and prepared to do business with all types of customers rather than simply being the neighbourhood shop or little business down the street. After all, a successful website might result in a successful business.
2. Become an information resource
With a website, you may establish yourself as an expert in your profession if your company operates in a niche market. Make an educational blog section and link to it from your landing page.
It will be easier for potential clients to locate you if they Google prevalent issues in your business. Additionally, after reading your blog posts, people will realise how beneficial you can be to them.
A HubSpot poll found that 56% of consumers said a blog had influenced their choice to make a purchase. Even if readers of your blog entries don't immediately use your services, you have spread awareness of your company without investing any money in conventional advertising or marketing activities.
3. Own your name
Creating a site and buying a domain name (e.g., www.business-example.com) helps stake your claim to your business's name. Plus, it's a quick and easy way to improve your brand identity.
You can also get a unique business email that will add to that sense of branding (e.g., yourname@business-example.com). Many website hosting providers will include custom email addresses as part of their offerings.
4. Improve SEO rankings
When performing a search through sites like Google, Bing, or Yahoo, you will see a list of websites related to your search. You can apply many SEO (search engine optimization) tactics to your website to improve its rankings on those search engines, helping to generate free traffic and sales. Boost SEO with helpful, fresh content posted in your website's blog section.
5. Increase leads from online
Getting more website traffic is fantastic, but getting more customers is even better. Your potential leads are more likely to call, sign up for your newsletter, or make a purchase from your business when your website is optimised and mobile-friendly. You may make your website your company's top salesperson.
6. Develop a mailing list
Once you have a website built, add a form for people to sign up for your mailing list or newsletter. This will give you an easily accessed database of potential customers to advertise to. According to a 2020 study, 78 percent of marketers considered email essential to their company's overall success.
7. Save money on printing
In point-of-sale circumstances, paper catalogues and brochures can still be useful, but what if the product details change? Having all pertinent information on your website, where it will be far less expensive to modify and revise, is more efficient. The most economical strategy moving forward will probably be a mix of print and web marketing materials.
8. Reach online consumers
According to a 2022 survey, about 63 percent of the entire planet's population, approximately 5 billion people, have internet access.
Since most people can access the internet, even having a basic landing page as your business website is helpful. For many consumers, if they can't find something online, it doesn't exist as far as they are concerned. A web presence means being able to reach people where they are. That includes smartphones:
A study conducted in 2021 found that 85 percent of American adults own a smartphone.
Statistica estimated that in 2021, Americans spent over 360 billion dollars purchasing products and services while using mobile devices.
Most websites these days can automatically adjust to fit both smartphone and desktop computer screens. If most of your customers seem to always have a smartphone in their hand, then it is a good idea to be able to reach them directly.
9. Tell your unique story
A good method to humanise your company is to have a webpage on your website devoted to a section like "Company History." Being a small firm can immediately benefit you in this situation.
run a family business that your parents started? been around for a long time? Inform the public about it to earn their trust. Being authentic and creative might be a benefit that larger businesses may find challenging to match.
10. Create a new selling opportunity with mail orders & e-commerce
If your company sells items that can be shipped via mail order, you might want to think about creating an online store or portion of your website dedicated to online shopping. A few businesses will construct this part for you.
You might be able to connect with a completely different group of clients who don't dwell in close proximity to your actual retail locations. The entire world may be one of your potential consumers, depending on the nature of your industry.
11. Collect customer data
You might have already estimated the average foot traffic at your brick-and-mortar location. However, a small business website gives you an idea of the broader reach of your business with digital insights. If you have different web pages dedicated to the products or services you provide, you can use web visitor data to find which are attracting the most attention.
You can also create online polls or surveys to get an idea of what products and services customers are most interested in.
12. Offer easy access to product info and customer service
Working with your staff and product distributors, you can offer as much detail on products and services as you want. Email forms and contact info can help a small business build out a more professionally-styled customer service system.
Even semi-automated chatbots can be placed on a website, performing the same essential function an operator would on a major company's 1-800 customer service phone number. As a result, customer service is now available for your clients anytime.
13. Create value for customers
Your staff can spend less time explaining the basics of a product or service to inquiring customers. If a consumer is not at your store, you can directly refer them to your website if they have any additional questions. Those customers who like to "kick the tires" before purchasing will be able to do as much advance reading on your offerings as they want.
14. Host a virtual showroom for all your products
If you have a business with limited floor space for your products, your website can provide the solution. You have virtually unlimited space to list all your products in as much detail as you want, and potential customers can read up on them at any time.
You can include high-quality photo galleries for products by working with manufacturers and distributors. Plus, your virtual showroom can be open 24/7.
15. Boost brand awareness
Place your website address on all your existing promotional material, e.g., business cards, brochures, etc. You could see increased sales. For example, even if someone who picked up a piece of product literature isn't planning to buy right away, you may have planted a seed.
When the consumer gets serious about making a purchase, your website materials are easily accessible. Your site is likely where they'll now start their product research in earnest. When you combine traditional promotional materials with the added resource of your website, your business is more likely to "stick" in customers' minds.
16. Help train staff
If you've taken the time to build out a website with detailed info about products and services, you now have an information resource available for your staff to use internally. Direct new employees to specific web pages so they can read up on the products they will be selling.
17. Enjoy return customers by always being "findable"
Potential customers may sometimes lose business cards and brochures. However, a bookmark in a customer's web browser can remain in their search history. This "permanency" can also assist in word-of-mouth referrals.
18. Attract new staff members
Create a "Careers" or "Job Opportunities" section on your business website. You'll be able to get potential job candidates to come to you rather than spending time and money on trying to recruit employees or placing listings on job websites.
19. Build your digital presence the easy way
Unlike in the early days of the internet, creating a visually appealing website does not require any knowledge of HTML or computer code. Modern web design companies are a "one-stop-shop" that can take care of all the technical requirements for you, catering to small enterprises with limited budgets.
Most offer a selection of editable templates from which you can choose to develop your brand identity. Today, building a website is simple and economical.
20. Promote your brick-and-mortar locations
Although it may seem paradoxical, having a website may aid in boosting foot traffic at your physical locations. When you provide fundamental information on your website, such as store addresses, phone numbers, and hours of operation, search engines will be able to find it.When someone searches for your store online in the future, they are more likely to find information about it in the search results. This is crucial for prospective clients who use cellphones. They can look up your company online, locate your address, and instantly enter it into their GPS even while they are on the move.